Prayer Path: Station 8
The Path Through the Cross: Led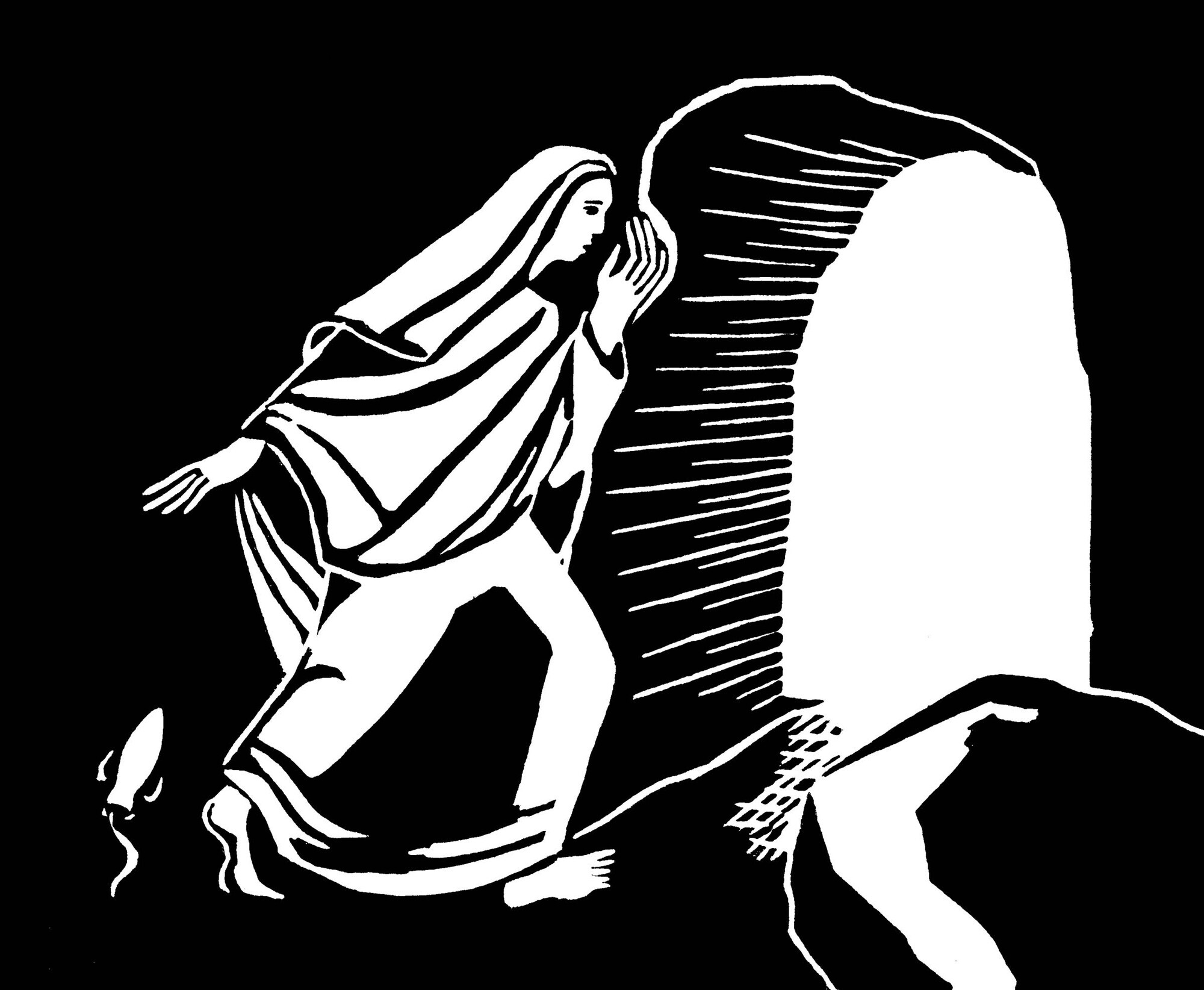 Opening Prayer
Lead me, Lord, as I walk this path of new life, shedding the sorrows, finding the joy. Amen.
A Reading from the Gospel of Mark, chapter 16 (vs. 1-8)
When the Sabbath ended, Mary Magdalene, Salome and Mary the mother of James went out and bought spices for embalming Jesus' body. Just at sunrise, they carried them out to the tomb. On the way they were discussing how they could ever roll aside the huge stone from the entrance. But when they arrived they looked up and saw that the stone—a very heavy one—was already moved away and the entrance was open! So they entered the tomb—and there on the right sat a young man clothed in white. The women were startled, but the angel said, "Don't be so surprised. Aren't you looking for Jesus, the Nazarene who was crucified? He isn't here! He has come back to life! Look, that's where his body was lying. Now go and give this message to his disciples including Peter: "'Jesus is going ahead of you to Galilee. You will see him there, just as he told you before he died!'"
Reflect
What am I feeling as I hear and see this moment on Jesus' path through the cross?
Is new life really part of following Jesus?
How did Jesus experience new life?
How am I experiencing new life now even in the midst of testing, misunderstanding, surrender, betrayal, distress humiliation and even death?
Christ Speaks
It is I! I am He who leads you through death,
puts death to death, binds the dark powers
and bears all humankind up to heavenly peaks.
Yes, I am He.
Therefore come, all human families, ruined by sin.
I am your Liberation and the Pathway of New Life,
your Pulse, your Fire, your King.
I gather you in one strong hand to the heights of paradise
where I will show to you your Father!
from Christ Speaks, by St. Melito of Sardis (c.190 A.D.)
A Closing Prayer of Commitment
Walk with me, Lord, on the path of my life.
Let me follow Your resurrection footprints wherever they take me!
Let me trust You are always going ahead.
I freely surrender to You my very self.
Let me be full, let me be empty.
Let me have all things, let me have no-thing.
Because, glorious and blessed God -Father, Son and Holy Spirit-
I am Yours and You are mine. Amen. from Covenant Prayer for Disciples by Charles Wesley
Image Credit: Mary at the Tomb © 2022 Lucinda Naylor | Eyekons
Station 8

Listen here to a guide to Station 8 of the Prayer Path.