Advent
Advent is a Latin word that means "going towards" or "moving towards" and indicates a time of expectancy. For Christians it's a period of waiting ~ leading up to Christmas Day. True, there is something artificial about that because Jesus is already here, but, similar to celebrating our own birthdays annually, we want to anticipate and celebrate his arrival anew again this year. Jesus is coming. What does that mean for us? I think it means two opposite yet connected attitudes.
---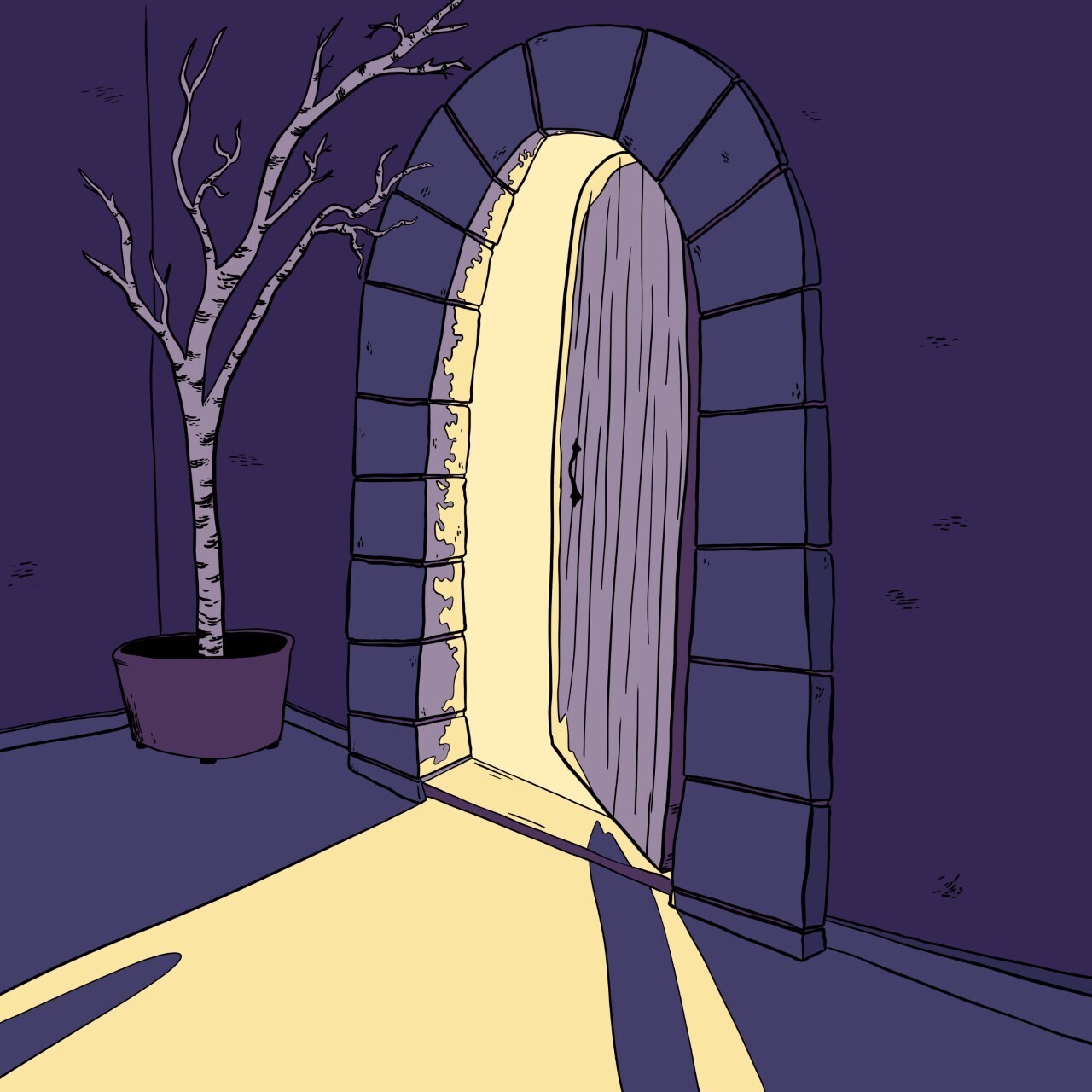 Artwork by Emma V.
---
At Last!
Imagine a scene that begins with words like this: Ssshhhh! Sshh! Quiet! I hear something… And then with rising intensity: SOMEBODY'S COMING!
What do you imagine the next words are? Well we could easily imagine some scenes filled with joy. Ones in which the fact that someone is coming is happy news, because you've waited for a long, long time for this to happen.
· Somebody's Coming! It's him! They're here! I see him!
· Somebody's Coming! Help me!
· Somebody's Coming! Sh…..Surprise!
What a sense of excitement there is when something eagerly anticipated finally arrives! This kind of anticipation joy should characterize our waiting for Jesus in Advent. And, in fact, the sum of our sense of joy at events in our lives should be mild compared to the joy of what God has done and is doing in Jesus. Centuries of prophesy and of waiting were fulfilled when a small boy was born in Bethlehem almost 2000 years ago. A boy named Jesus, which means "The Lord Saves." He came. He has come. He is here—in our hearts, in our church and in this world by the power of His Spirit. The coming of Jesus should stir some of that joy and excitement among us this year again.
Look Out!
But there is another sense of expectation too. We could also envision a number of negative scenarios to the proclamation that "Somebody is coming!" Scenarios in which the coming causes a prick of anxiety.
· Somebody's Coming! Run!
· Somebody's Coming! Quick! Clean up!
· Somebody's Coming! Hide!
· Somebody's Coming! Get back to work!
Think of the classic scene when the teacher leaves the room and the whole class erupts: paper airplanes, spit balls, running around, yelling. Inevitably one or two kids are posted as look-outs. All the fun and games quickly end, however, when the look-outs yell, "Teacher's coming!" If you are doing something you shouldn't be, and an authority figure comes in, you don't want to be caught. This coming is something we wish we could avoid.
There is definitely a "Look Out!" aspect to the imminent arrival of Jesus. His cousin John uses some vivid images to describe the ministry of the coming one: purifying fire, a winnowing fork, his day will spring on you like a trap. "Watch out!" says John, "Don't get caught unawares." Because Jesus is also the judge, his coming requires reflection, examination, repentance and purification. For the arrival of such an important person, we need to get ready. There are things that need to be cleaned up to make room for the increase of the Kingdom in our lives, in our churches, in our world. This kind of preparation should also characterise our Advent waiting. Let's not get so caught up in "being ready for Christmas" that we are not ready for Christ.
And so we prayerfully sing Charles Wesley's hymn "Come, Thou Long-Expected Jesus" as a prayer of preparation this Advent season. Because although Jesus is already here, we still need him to release us more and more from "our fears and sins." We need again to declare that he was "born to reign in us forever." We need to affirm our commitment to fervently pray and work so that God can bring his "gracious kingdom" in us, in our church, and in our world. We still wait for that kingdom to be all and in all. But we do so with hope and joy. And with excitement at what God has already done among us, and will yet do.
- Pastor Joan DeVries
We hope that you will join us this Advent and Christmas season. For a schedule of services, click here.
---
This blog post is adapted from an article Pastor Joan had previously published in Reformed Worship.